* For Multiple Quantity Options - Please See Notes Below
The 900mm Indoor Half Dome Mirror has a scientifically engineered curvature which produces the maximum usable reflective surface for a wide angle view. This means images are larger and clearer, compared to other poorly made dome mirrors with a deep curve and therefore reflect a large part of the wall. The half dome mirror is designed to give 180° viewing angle (left and right) at T-Intersections in corridors and a the end of shelving aisles. This application can significantly help avoid collisions hospitals, office buildings and warehouses. Also used for monitoring hard to see shelving in retail stores and childcare observation.
FEATURES:
2mm thermoformed acrylic
Scientifically designed curve for maximum viewing angle
Impact Resistant
Dome capped screws included

2 x Mounting Holes 5mm
HALF DOME COMPARISON: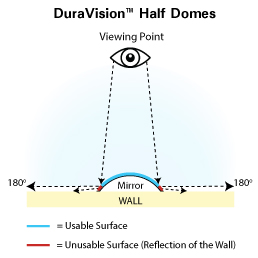 DuraVision Curve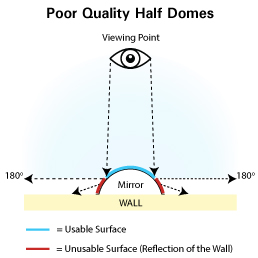 Deep Curve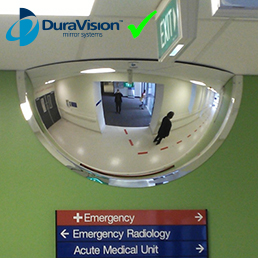 Bigger Reflection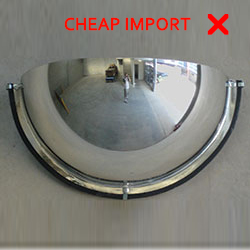 Small Usable Reflection
* Multiple Quantity Options:
To save on shipping charges, we can multi-pack up to 5 mirrors in one carton. Please select from the multi-packed options if you require more than one dome (up to 5 per box). Then select the number or cartons in the "Qty" box next to the Add to Cart button. This will ensure you are only charged shipping for the number of cartons sent.
For example, if you require 4 mirrors, select "4 x Mirrors Packed Per Carton" from the Multiple Quantities options and select 1 in the Qty box. If you require 10 mirrors, select "5 x Mirror Packed Per Carton" from the Multiple Quantities options and select 2 in the Qty box. Please contact us if you have any questions.