* For Multiple Quantity Options - Please See Notes Below
450mm indoor ceiling dome mirrors are scientifically designed give a 360° view over 4-way intersections to reduce collisions in factories, warehouses and busy corridors in hospitals and early childcare centres. For open plan retail outlets, the full dome can assist with surveillance of large areas which are obscured by isles and shelving, such as in supermarkets and department stores. The suspension kit allows the mirror to be suspended from the ceiling to the optimal height and also comes with dome capped screws to attach directly to the ceiling.
FEATURES:
2mm thermoformed acrylic
Scientifically designed curve for maximum viewing angle
Impact Resistant
260mm suspension kit included
Dome capped screws included
3 x Mounting Holes 5mm
MOUNTING OPTIONS: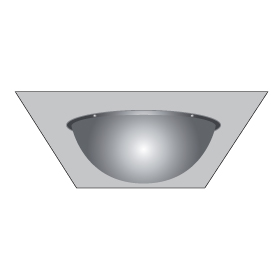 Fixed to Ceiling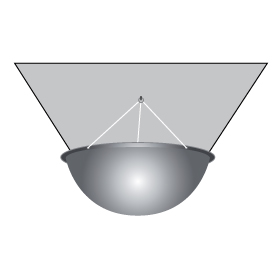 Suspended From Ceiling
* Multiple Quantity Options:
To save on shipping charges, we can multi-pack up to 5 mirrors in one carton. Please select from the multi-packed options if you require more than one dome (up to 5 per box). Then select the number or cartons in the "Qty" box next to the Add to Cart button. This will ensure you are only charged shipping for the number of cartons sent.
For example, if you require 4 mirrors, select "4 x Mirrors Packed Per Carton" from the Multiple Quantities options and select 1 in the Qty box. If you require 10 mirrors, select "5 x Mirror Packed Per Carton" from the Multiple Quantities options and select 2 in the Qty box. Please contact us if you have any questions.